Clean Site Floor Removal Company specializes in concrete surface preparation and flooring removal services. Clean Site provides these services using the latest shot blaster equipment and ride-on flooring removal. Clean Site's hi-tech equipment and factory trained employees have the power and experience to get the job done faster, more efficient, and more cost effective than conventional methods. We are pleased to use the National 5700 flooring removal equipment.  This powerful equipment will remove all type of flooring, such as, tile, hardwood, bamboo, carpet, and VCT.  We are factory trained to insure your satisfaction with the work we perform. In addition, we use Hepa particulate vacuuming system so that dust is contained throughout the project.  The National 5700 is a ride-on machine that is powered up to 12 hour work days without requiring a battery recharge or electrical cord assistance.  It has no harmful fumes or hazardous bi-products and it can operate on almost any jobsite because of its narrow design.  There are different blade settings and an adjustable slide plate with swivel head action, which allows continuous blade contact to the floor. There are many different heads and blades that attach to this machine in order to get the best results.
Sacramento Floor Removal Floor Crack Repair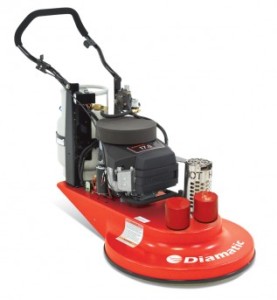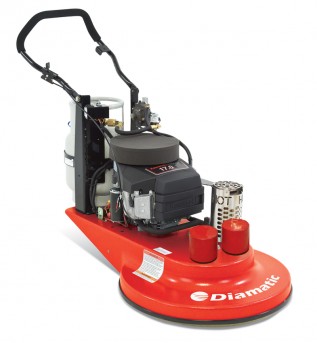 We fill and level uneven surface using specific fillers that flow to the bottom of the crack, which allows long term solutions rather than temporary ones.
We use Diamatic concrete polishing and grinding equipment that is respected and recognized in the industry to deliver the best finished flooring solutions. We begin by using coarse diamond blades, then polished with finer blades. We apply a liquid densifier that tightens the molecules in the concrete surface. The result ranges from a matte finish to a high gloss finish.
Self Leveling and Overlays
This process is ideal for uneven floors, damage with holes, and colors that are gray and white.  Self leveling gives you a choice to use the surface for dye and colored options.  Self leveling serves as a protection for the surface and for sealed application. It can be applied for residential and commercial settings.  Self leveling is applied in one coat: a liquid primer followed by a special coating.  Coating can be colored or dyed to your taste.
Step by Step
Inspect and plan flooring removal process
Remove and place furnishings in unaffected areas
Seal off rooms that require no flooring removal
Remove floor moldings, doors, or any object that could be compromised
Remove old flooring and dispose of it
Use Hepa vacuum for dust control
Remove any underlayment to the bare surface
Sweep, vacuum, and remove any flooring remains from the work area
Sacramento Floor Removal Contractor
Clean Site Sacramento Floor Removal Services can make your flooring removal project easy, fast, and cost effective.
Sacramento Flooring Removal:
Glued Down Carpet.
Carpet Tile.
Floor Tile.
Vinyl, VCT, LVT.
Hardwood and Laminate Flooring removal.
Tile and Natural Stone.
Commercial Carpet.
Adhesives and Thin Set.
Flooring demolition.
Tile floor removal.
Carpet removal.
Floor preparation.
Hardwood floor removal.
Glued down flooring removal.
There are many reasons you wouldn't want to remove your flooring yourself. Tearing up flooring is a messy process. The dust needs to be contained and you want areas that don't need flooring removal to be protected. Dust control can be a big issue in Sacramento floor removal if not contained properly. It is difficult to pry off the flooring from the subfloor because the substance that holds them together is like cement, and you don't want to ruin your subfloor. There's also safety concerns with allergens and mold that might be in your padding or nails, staples, or adhesives are difficult to deal with.
Clean Site Sacramento Flooring Removal has advanced equipment to remove carpet, tile floors, vinyl flooring, stone, hardwood floors and any type of flooring adhesive or glue.
We are Licensed and Insured.
Call Sacramento Floor Removal at 916-296-6884