Epoxy Flooring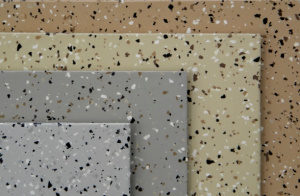 Epoxy flooring is ideal for garage floors because it's available in a wide variety of color choices. We are sure you will find the color that fits your taste and décor. We will assist you in your surface solutions and concerns, and will provide you with the highest quality products, with expert installations.
Preparation & Process:
Prior to applying any coatings, we use our Diamatic equipment, which uses diamond abrasives to grind the concrete floor. This process allows the concrete to open up and reveal its pores. The dirt and dust is removed, and the cracks and holes in the concrete are filled with a sanded epoxy crack filler. At this point, a base coat would be applied to penetrate the surface, so that the epoxy coating will bind to the concrete floor. If desired, chips could be added after the base coat is applied, so dirt wouldn't be as visible. This is not required, and instead you would be left with a solid, clear or colored epoxy flooring. Lastly, a clear epoxy topcoat is applied, which will chemically bond with the first coat. The topcoat protects against scratches and spills, so that you're left with a hardwearing epoxy flooring.
Why Epoxy Flooring:
Epoxy floor coatings are durable and resilient, and applying it to concrete creates a beautiful surface that is versatile and long-lasting. It is ideal in commercial, industrial, and even residential settings. Epoxy floors are useful in many different areas. Such as, garages, kitchens, basements, bathrooms, warehouses, laboratories, and more. It can be applied to suit your fashionable and stylish needs, that is also easy to maintain.