Lodi Flooring Removal
There are several different types of flooring removal that at some point might need to be performed by a qualified Lodi Flooring removal specialist.  One of the easiest processes to remove the flooring is to use flooring removal equipment, such as the National 5700.  This machine powers through the tile removal process, wood removal, and VCT removal process. The flooring removal process is much more time efficient and energy conserving when using this equipment.  The national 5700 can do the majority of the work, but in hard to reach areas or flooring close to an object, hand-held tools will be used for flooring demolition. Before any flooring removal can begin there are a few steps that need to be done.
First, Lodi Flooring removal projects need to be inspected before the flooring removal.  All furnishing need to be removed and out of the way.  Rooms will need to be sealed off with six mill plastic to contain the dust and to prevent it to getting to other areas.  Vacuums are used to handle dust control throughout the area.  Next, floor moldings, doors or anything that can be compromised in the flooring demolition process need to be removed.  After that, the flooring removal process begins using the National 5700 and the old flooring is disposed of.  Any hard to reach areas will removed by hand.    The under lament is scraped away and you are left with a bare surface.  Then, any remnants from the flooring removal process will be swept and vacuumed away and hauled off.
The National 5700 is a ride-on machine that can power through 8-12 hour work days without requiring a battery recharge or electrical cord assistance.  It has no harmful fumes or hazardous bi-products and it can operate on almost any jobsite because of its narrow design.  This machine uses hydraulic drive system, which gives it more speed and power than a hydrostat drive system.  There are different blade settings and an adjustable slide plate with swivel head action, which allows continuous blade contact with the floor.  The hydraulic steering system enables tight maneuvering and a zero turn radius, which gives more precision.  It has an automatic kill switch for safety reasons, so it will not function without a person in the seat.  There are many different heads and blades that attach to this machine in order to get prime results for wood removal, VCT removal, and wood removal.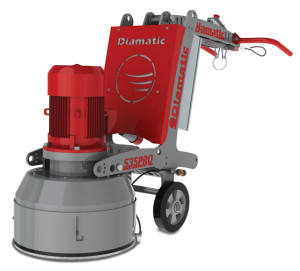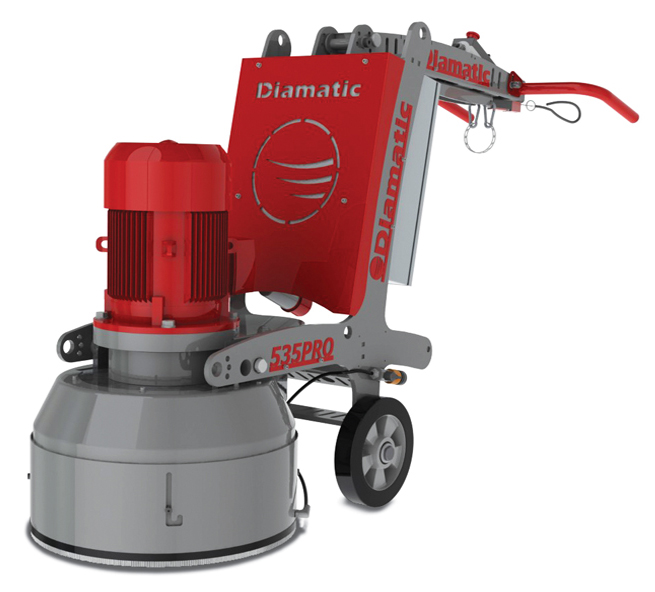 The National 5700 is capable of doing many different flooring demolition tasks, such as, ceramic tile removal, wood removal, and VCT removal. It will take significantly less time and energy using this equipment, and it drastically lowers your risk of putting dents and divots in subfloor.  A smooth and level floor is desired after flooring demolition, in order to put in new flooring, which is why you would want to use the National 5700.
There are many reasons you wouldn't want to remove your flooring yourself.  Tearing up flooring is a messy process.  The dust needs to be contained and you want areas that don't need flooring removal to be protected. Dust control can be a big issue if not contained properly. It is difficult to pry off the flooring from the subfloor because the substance that holds them together is like cement, and you don't want to ruin your subfloor.  There's also safety concerns with allergens and mold that might be in your padding or nails, staples, or adhesives are difficult to deal with.
Step by Step Lodi Flooring removal
Inspect and plan flooring removal process.
Remove and place furnishings in unaffected areas.
Seal off rooms that require no flooring removal.
Remove floor moldings doors, or any object that could be compromised.
Remove old flooring and dispose of it.
Use a vacuum for dust control.
Remove any under lament until bare surface.
Sweep and vacuum any remnants from flooring removal process.
Lodi Flooringing demolition by Clean Site Flooring Removal Company is based in Sacramento, California. Clean Site provides floor removal services of Ceramic Tile, Carpet Tile, Vinyl Tile, Carpet and Wood Floor throughout Sacramento and the surrounding areas.
We use state-of-the art equipment that can remove any type of floors efficiently saving you time and money.
At Clean Site safety is our top priority. Our trained technicians and new updated equipment enable us to remain current in industry safety standards. In addition, we make sure that debris and dust are limited to the space where removal takes place. Therefore, before starting any project, Clean Site staff seals off the area, vents and covers items that cannot be moved, label areas, and setup work station to ensure safety. Clean Site will remove all final debris to an offsite disposal.
Have your old floors removed by the Lodi Flooring removal professionals and you will have a smooth surface to lay your new floor onto.  Call Clean Site flooring Removal today!
Glued Down Carpet
Carpet Tile
Floor Tile
Vinyl, VCT, LVT
Tile and Natural Stone
Commercial Carpet
Adhesives and Thin Set
We have advanced Lodi Flooring removal equipment to remove carpet, tile floors, vinyl flooring, stone, hardwood floors and any type of flooring adhesive or glue.
We are Licensed and Insured.
Call Lodi Flooring Removal at 916-296-6884